15 march
Subsidies from Damu
Astana Motors Finance and "Damu" Entrepreneurship Development Fund" JSC signed a cooperation agreement to subsidize the leasing fee under financial leasing contracts for private businesses. Thus, you can be subsidized for up to 13.75% per annum of the leasing fee.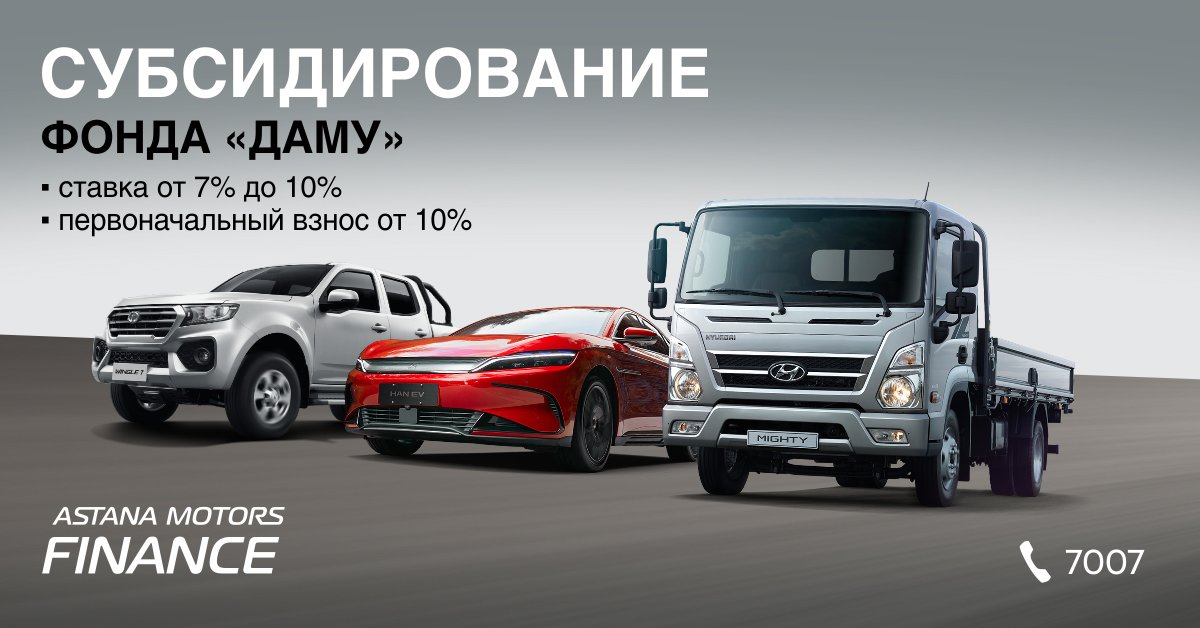 Subsidy conditions:
Leasing fee for the Lessee – 8% per annum.
Amount of the subsidy from «Damu» Fund – up to 13.75% per annum.
For example, if the Financial Leasing Contract stipulates a fee of 21.75% per annum, «Damu» Fund pays 13.75% and the Lessee pays 8%.
How to get the subsidy?
Submit an application.
Get an approval.
Sign the Financial Leasing Contract.
Sign the Subsidy Contract.
* Additional information can be obtained on the website www.damu.kz.
* Subsidy is a form of state financial support for entrepreneurs, used to partially reimburse entrepreneurs for fees paid under concluded leasing contracts. In turn, the entrepreneur undertakes to fulfill certain conditions relating to their operating activities in the future, such as, for example, providing a certain number of jobs or increasing the amount of tax payments.
The preferential financial leasing program will allow you to receive state support not only in the form of subsidies, but also guarantees full support, convenience and fast processing of your application. Get the most for your business!